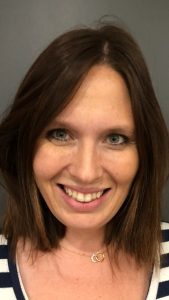 Colleen Donovan graduated from Seton Hall University in 2010 with a Master's Degree in Occupational Therapy. She received a B.A. in Psychology from Seton Hall University in 2008.
Colleen has had the opportunity to work with children of all ages with experience in a variety of pediatric settings, including Early Intervention, medically based pediatric outpatient therapy, and educationally based school therapy. Colleen has spent the majority of her career working for JFK Hospital in Edison, NJ, as well as a variety of Early Intervention agencies throughout NJ. She has worked with children with a variety of diagnoses including but not limited to, Autism Spectrum Disorder, ADD/ADHD, Sensory Integration Disorder, Cerebral Palsy, Down Syndrome, prematurity, fine and gross motor delays, visual motor and perceptual difficulties. She has a thorough understanding of sensory integration and the role it plays in a child's success during the school day and throughout all their daily routines. Colleen also has significant training in sensory based feeding difficulties, implementation of the Therapeutic Listening program, Handwriting Without Tears, the Astronaut Board protocol, and a variety of vision therapy techniques.  Colleen has a passion and drive to create a fun and functional environment that will drive successful growth and development for every child.
In her free time, Colleen enjoys being with her husband, 3 young children, and two family dogs. She loves to travel, most specifically to Disney World with the kids!