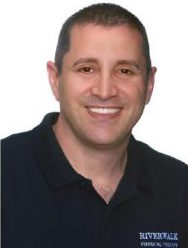 Philip Pesce, MSPT, grew up in Staten Island, NY and graduated with cum laude from the College of Staten Island.  He received his Masters in Physical Therapy in 1998 and has practiced at the  renowned Rusk Institute of NYU, then onto Staten Island Hospital, and pediatrics for the NYC Board of Education.  Phil was then a therapist for PLUS ONE – providing  one on one physical therapy for staff at Goldman Sachs in Jersey City.  Over the last 12 years, Phil has predominately worked in outpatient adult and pediatric orthopedic facilities. Phil is the co-owner of Riverwalk Physical Therapy in Basking Ridge, NJ.
Phil has received his Level 1 and 2 certification from the Titleist Performance Institute (a division of Titleist Corporation) to work on restoring lost function and movement with reference to golf fitness. Phil is committed to life long learning by attending classes every year. Phil's 3 most recent courses include: Sports-Related Injuries in the Young Athlete,  Injuries in the Running Athlete, and Evidence Based Examination of the Shoulder.  Phil continually keeps informed of the most up to date and proven manual therapy techniques and stays current with post- operative protocols. He works closely with many surgeons and general MD's to provide follow up on their patients.
Phil holds his faith and relationship with God above everything else.  He attends Pottersville Reformed Church and sits on the board as an elder in the church.  On a personal note, Phil enjoys spending time with his wife Sheri and two very young children.  He loves golf & fishing as well as the beach, hiking, swimming, biking & traveling. 
Favorite Quote
"All men die, but not all men really live"  William Wallace from Braveheart
Work Schedule
Monday-Thursday
Patient Testimony
Phil Pesce may be the most caring, professional and skilled health caregiver that I have ever met in my life period! Take it from me, I've met a bunch!
I met Phil, while recovering from my second back surgery in 10 months. I was in severe pain, frustrated with the health care system, and caregivers in general. Having seen 7 Chiropractors, 2 pain management doctors, and 2 surgeons before coming to where Phil worked, with 1 or 2 exceptions most of these "highly recommended" caregivers gave me marginal care, but Phil was different, he truly is a shining light. He gave me attention, recognized my needs, and never made me feel, "it was just a job to him" because it's not. Phil cares for you like family. Don't accept any "Physical Therapy Mills" where you are just a number, and a time slot, because you don't have to with a guy like Phil around!
I'd follow Phil for care, anywhere he went, and I have already!
Anyone who wants to get a reference on Phil can call me directly.
Captain Frank Crescitelli
Age 51
Charter Boat Services
Staten Island, New York
718-317-1481