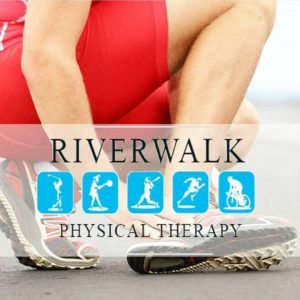 Orthopedic Physical Therapy
Orthopedic physical therapy involves the care of your entire musculoskeletal system, which includes your:
bones

muscles

ligaments and tendons

joints

connective tissue
The Physical Therapists from Riverwalk Physical Therapy specialize in orthopedics and can evaluate your condition and diagnose the issue or condition you have. They will also….
create a detailed treatment plan

administering manual therapy and oversight of your exercise program

educating you about how to manage your current injury or condition to prevent further injury
At Riverwalk Physical Therapy, Orthopedic physical therapy is provided by the therapists themselves and not Athletic Trainers or Certified Personal Trainers. 
What conditions does an orthopedic physical therapist treat? 
Orthopedic physical therapists treat almost any condition that affects your ability to move or function physically in your daily life.
Orthopedic physical therapy can be a primary or complementary treatment option for the following types of conditions:
arthritis

bursitis

poor

posture

frozen shoulder

joint

replacement

joint pain

limited range of motion

lower back pain

Pelvic floor issues

lymphedema

muscular dystrophy

Parkinson's disease and other neurological conerns

plantar fasciitis and other foot related pain

scoliosis

spinal stenosis

stroke

Vertigo
What types of treatments are used?
Orthopedic PTs use a wide range of therapeutic modalities, exercises, assistive devices, and patient education methods to help you.
Depending on how your therapist uses these treatments, they may be:
passive modalities (the therapist gives you a treatment), or

active modalities (you perform or participate in a movement)
Here are some examples of treatments that may be used with orthopedic physical therapy.
Hot and Cold Therapy, Electrical Stimulation, Shockwave Therapy, Ultrasound Therapy, Spinal Decompression, Manual Therapy including Massage and Joint Mobilization, Dry Needling (Currently not allowed by PT's in NJ), Corrective Exercises, and Video App Home Exercise Programs. 
At Riverwalk Physical Therapy, we hope you will work with us to create your individual treatment plan, and then commit to this plan so you can get back to doing the things you love.   
For more information please call us at 908-758-1006