Pediatric Occupational Therapy
Pediatric occupational therapy at the "Riverwalk Pediatric Therapy Group" focuses on helping your child develop the fine motor skills, visual and perception skills, cognitive skills and sensory processing skills necessary to allow them to successfully participate in their daily activities. Each child's daily activities and therapeutic goals will be different dependent upon their age, their deficits and their goals.
Upon your initial visit, your child will be thoroughly observed, evaluated and assessed during his or her first formal appointment with our pediatric occupational team.
We work with children fr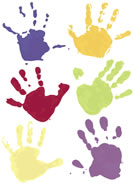 om infancy through adolescence who may have been injured or suffered from an illness or disability. Our expertly trained pediatric occupational therapists focus on age-appropriate developmental enhancement of your child's performance in his or her daily living skills.
Your child will be evaluated and treated in the following occupational therapy areas:
Daily Living Skills * Fine motor skills *Ocular motor skills * Sensory integration disorders * Coordination * Perceptual Motor Skills
At the Riverwalk Pediatric Therapy Group of Basking Ridge, our occupational therapists will also provide you with an evaluation and suggestions regarding your child's need for assistive equipment that may help him/her succeed in activities of daily living, such as: bathroom equipment, wheelchairs, splints and other therapeutic devices.
CALL NOW FOR A FREE CONSULTATION 908-758-1006