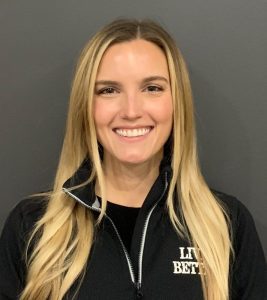 Casey received her Doctor of Physical Therapy degree at Rutgers University, where she was inducted into the National Student Honor Society. In her graduate program, Casey was a Teaching Assistant for the course Neuroscience, teaching the foundational basis for disorders of neurological origin. Before that, she attended Rutgers University and received her Bachelor of Science as an Exercise Science major with a minor in Psychology. Here she was a teaching assistant for her Exercise and Aging course. Both experiences as teaching assistants fostered her love of training, teaching, and patience.
Casey experienced her clinical affiliations in outpatient orthopedics, acute care, school-based pediatrics, hippotherapy, and inpatient rehab. In these settings, she worked with a wide range of diagnoses stemming from musculoskeletal, neurologic, and cardiopulmonary origins, with demographics ranging from pediatric through geriatric.
Casey encourages regular movement and physical well-being in her own life with some of her passions being hiking, biking, rock climbing, skiing and snowboarding. She also enjoys art projects, reading, and playing guitar, which satisfies her creative side. Additionally, she is a master of working a puzzle.